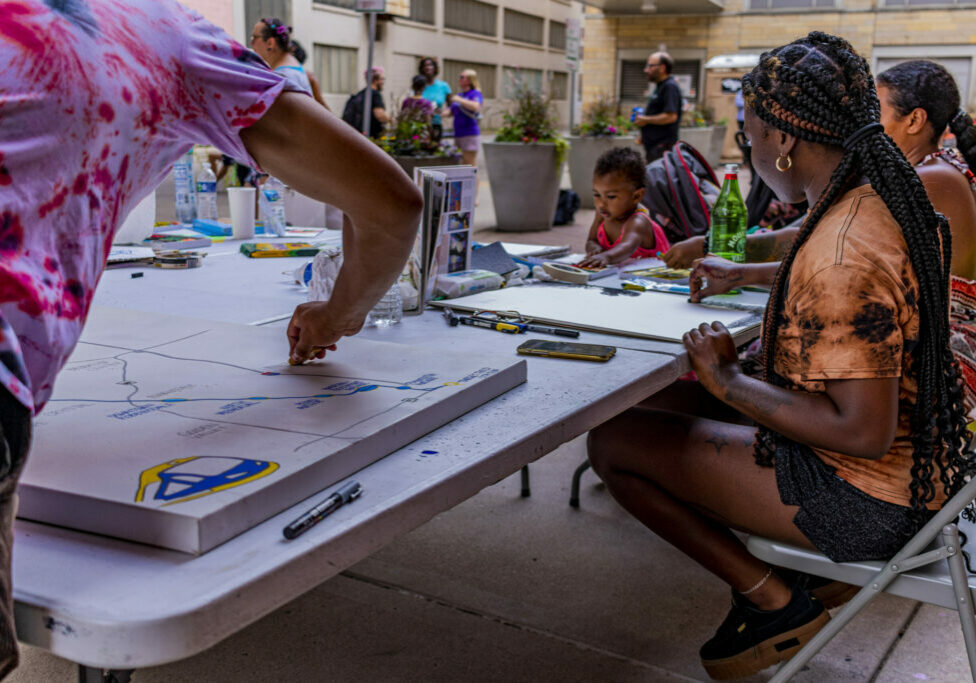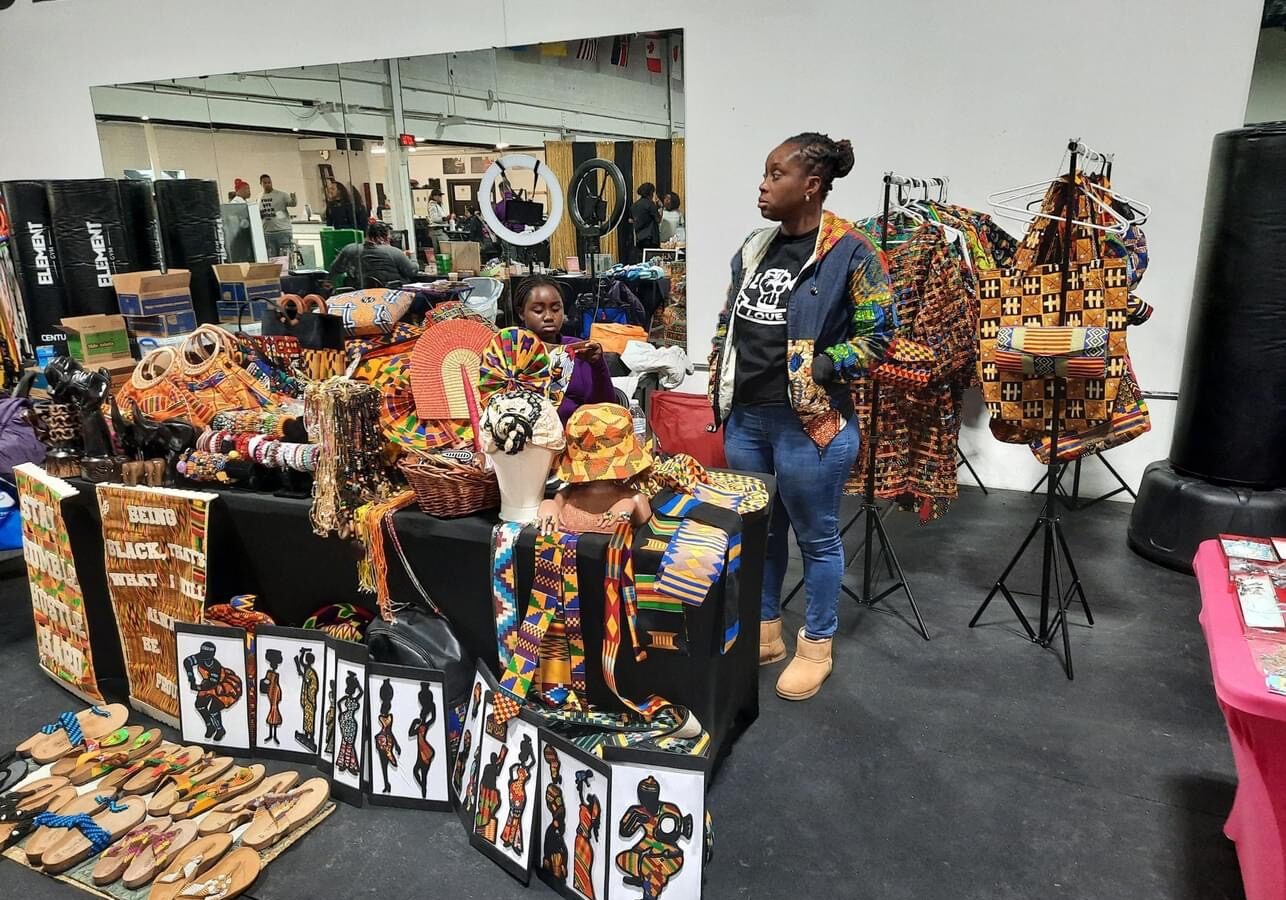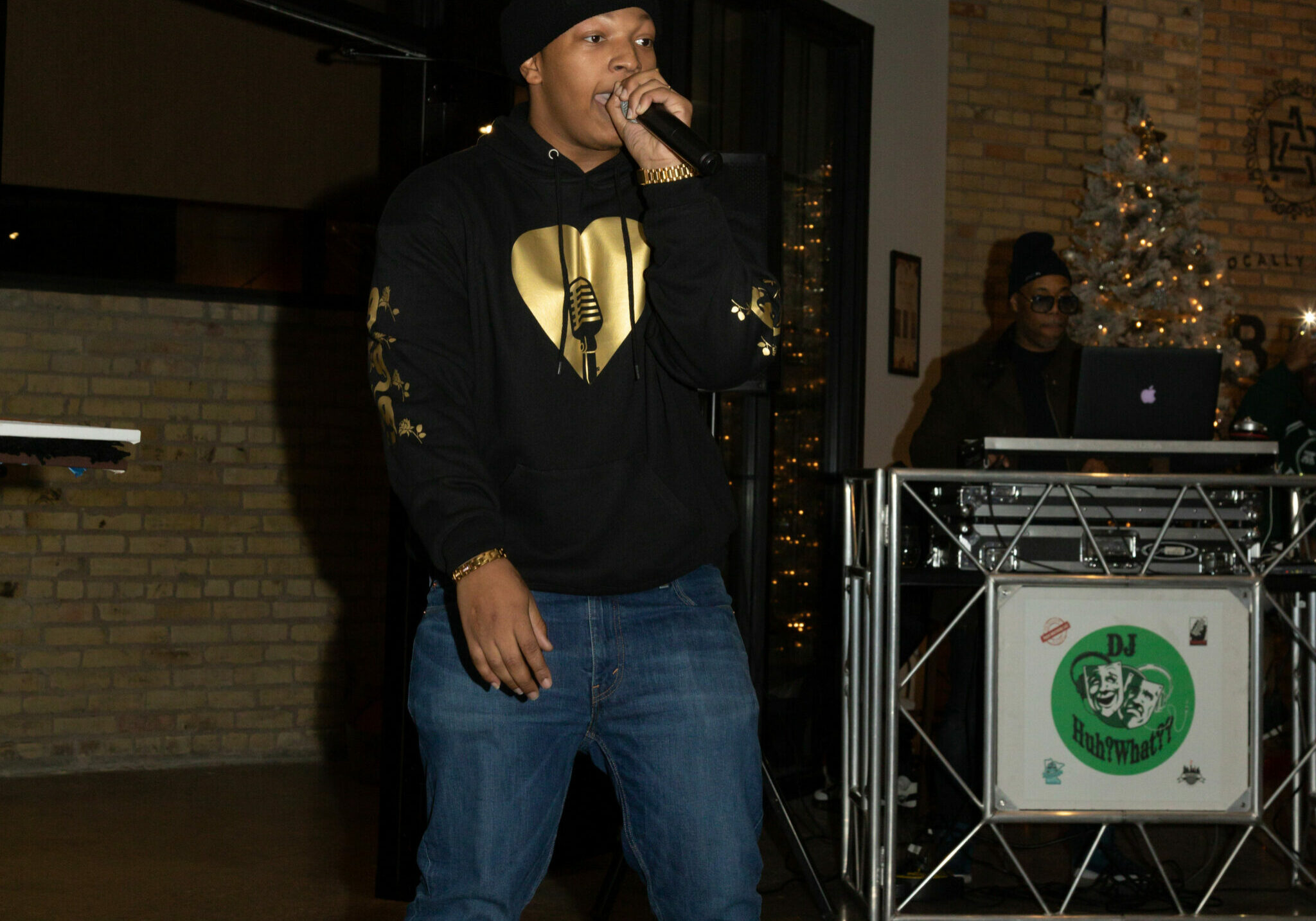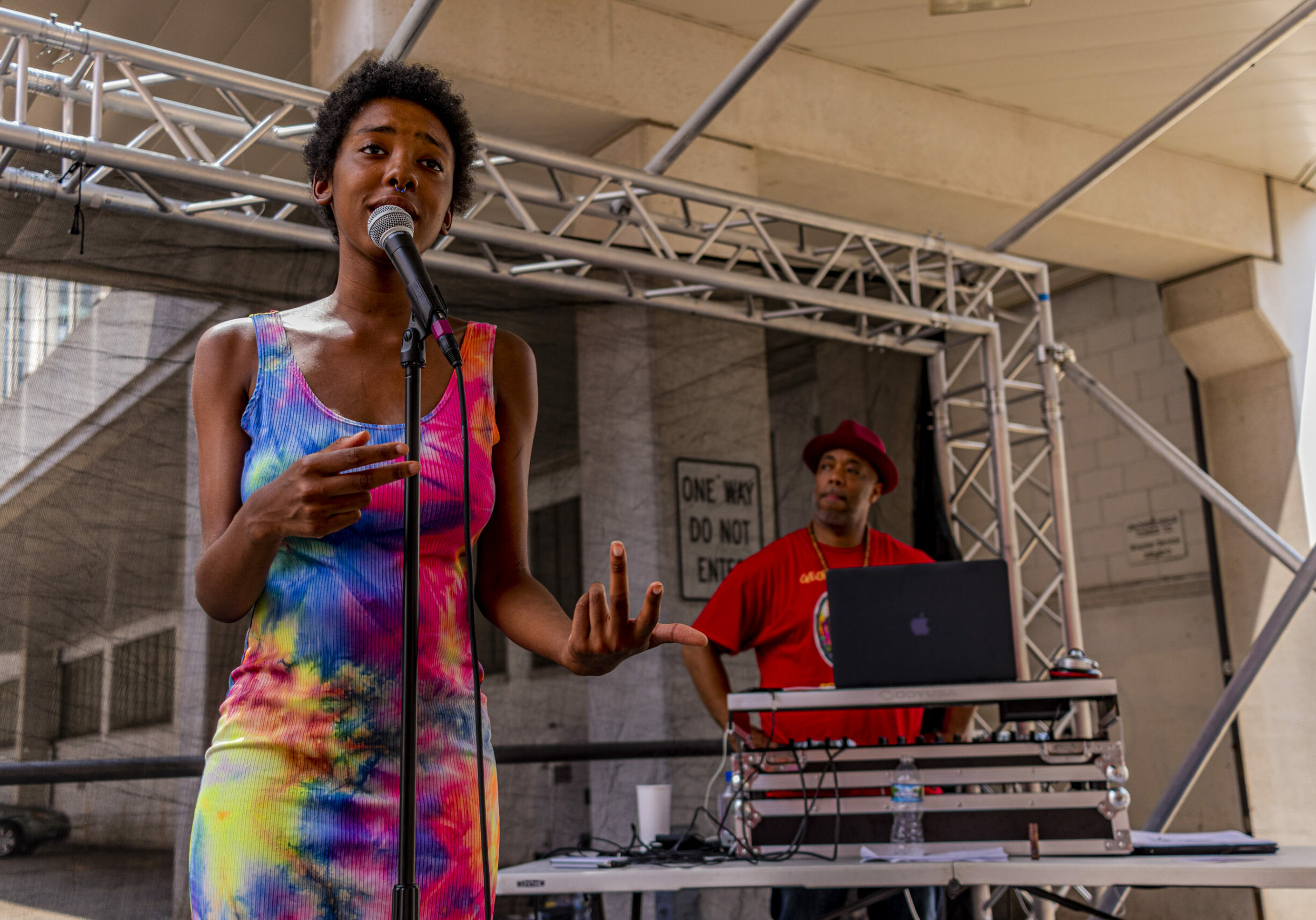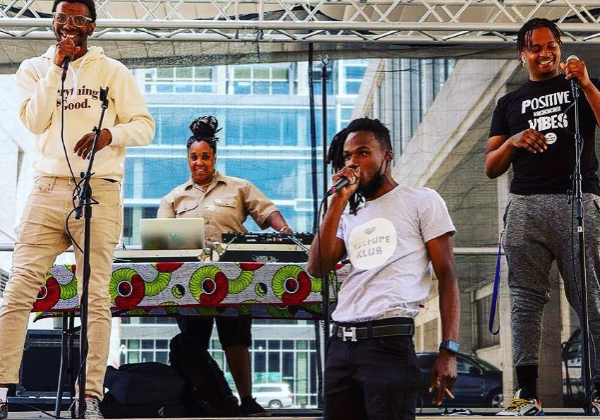 Art Lab offers hands-on multidisciplinary activities, including painting, improv, movement, art therapy, open mic nights, and beading, in dedicated spaces. These activities help new participants connect, provide outreach for partnerships and collaborations, and build relationships.
The Recording Studio allows youth to record their own music for free while learning about the engineering side of music making and improving their performance and songwriting skills. It's also the home of KKCs youth-led podcast, 4TheKulture!
The Artists-In-Residence program offers long-term, intensive residencies with multidisciplinary teaching artists. Participants learn from expert artists while building community and experiencing new artistic mediums.
Art in Housing removes barriers to arts access by delivering programming to youth where they are, including shelters, housing sites, and public art events.
The Outside Vibe is a partnership with Hennepin Theatre Trust where youth curate and perform at free bi-weekly events in Downtown Minneapolis. The Outside Vibe is a summer event open to the public, offering music, activities, art, food, and community resources.
Art View provides young people with the opportunity to view arts and cultural events in various Twin Cities' galleries, museums, theatres, and other performance spaces, allowing them to view thought-provoking work and build vocabulary to connect with visiting artists.
Meet Our Teaching Artist's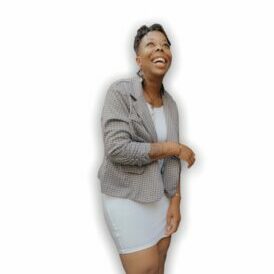 Shavon is a certified nurse, sought after her soul mission expanding a journey of personal experiences with healing, spirituality & self-worth into the community. As a spiritual coach, she doesn't solve problems; she empowers self-mastery! Planting seeds around the world that encourage & empower others to connect within the depth of their own truth, creativity & joy. Through creativity, meditation & compassion for your Higher Self as well as the greatest good of others, you will gain & learn to apply universal tools/resources that master your BE-ing. Connecting with Shavon Danea, young adults aged 17-25 become accountable & commit to aligning with purpose, creating vision, illuminating their voice, leading with spirit & act in faith. Living a prosperous life as ALL IS MIND when you Own Your S.H.I.F.T!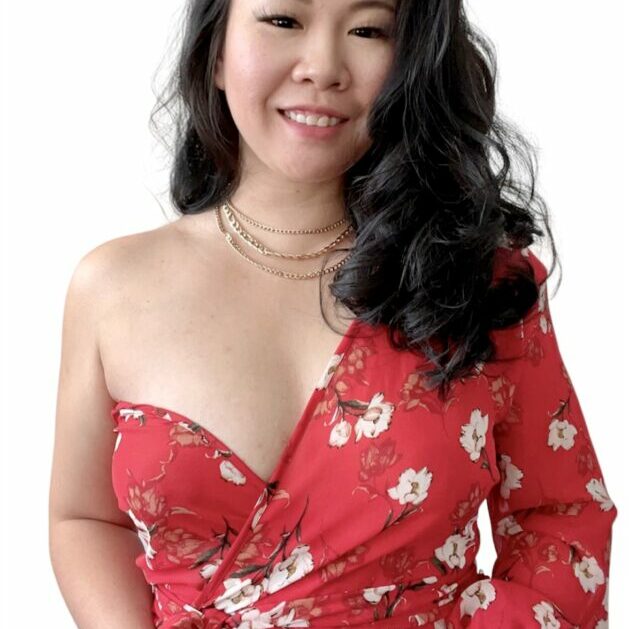 Mimi is the creator and designer of Melevated Only, a clothing brand serving the Midwest and L.A. She is also a mentor, teaching artist, and lead seamstress for a number of professional sports teams.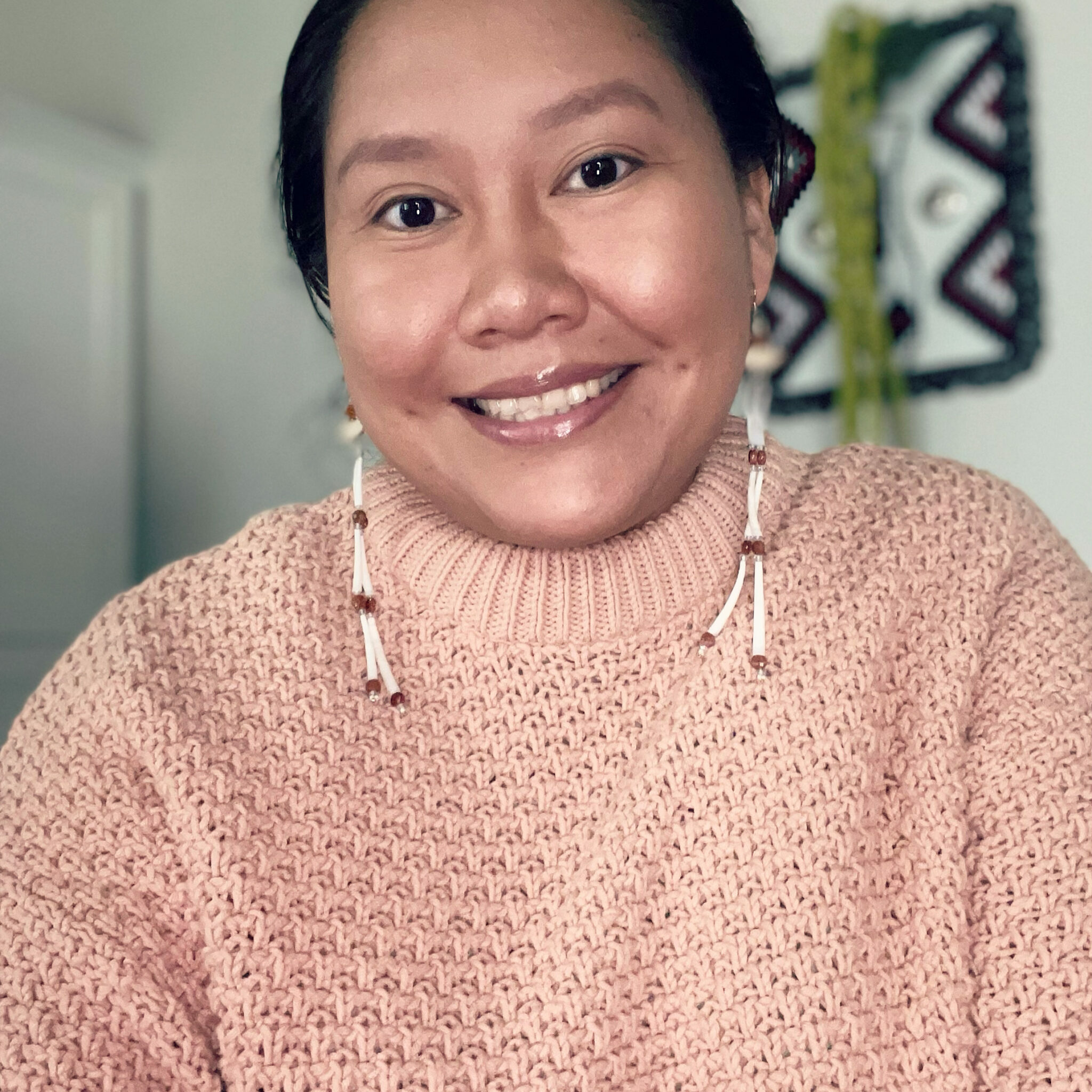 Blossom is a Diné storyteller, playwright, teaching artist and screenwriter. She is from the Yé'ii Dine'é Táchii'nii (Giant People) clan, and her maternal grandfather is from the Deeshchíí'nii (Start of the Red Streak People) clan. When she creates, she writes for her people. In her writing, she reveals truths that are hard to face but she balances the darkness with humor, so the viewer has a chance to breathe and laugh. Blossom was awarded a residency with Willowtail Springs/Durango PlayFest. Additionally, she has been awarded the 2022 First Peoples Fund Cultural Capital Fellowship, La Lengua/ AlterTheater Ensemble's Decolonization Stories Commission 2022, and is proud to be a recipient of The Playwrights' Center 2022-2023 Jerome Fellowship. She is a mentee in writing for animation with the Netflix Animation Foundations Program 2022. Blossom holds an MFA in Dramaturgy from Columbia University and a BA in Theatre from Arizona State University. A proud member of the Dramatists Guild, and the Literary Managers and Dramaturgs of the Americas (LMDA).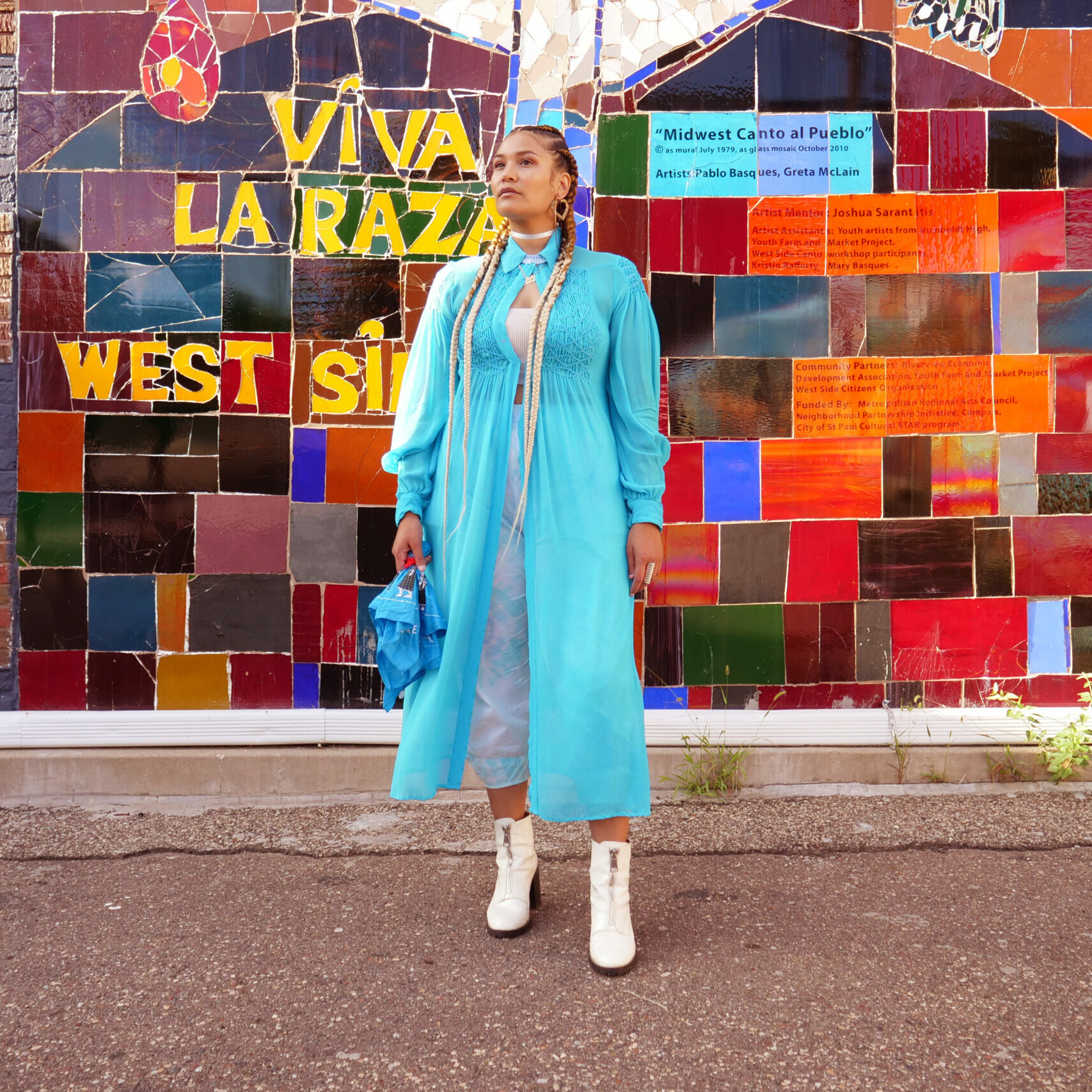 Lady Midnight is a vocalist and performance artist who draws upon her multidisciplinary background and Afro-indigenous roots to create work that reflects our collective lives. The City Pages named Lady Midnight Best Twin Cities Vocalist and named her highly anticipated debut album Death Before Mourning Best Album of 2020. She has performed across the country, sharing stages with legendary acts like Common, Moby, Andra Day, and Aloe Blacc. As a film composer, she has been commissioned by the Walker Arts Center and artist Kara Walker. Lady Midnight holds space for Black, Indigenous, people of color, refugee, and immigrant youth within her creative community residencies and projects like NDN Collective, indigenous students on the Red Lake reservation, refugee and immigrant girls and non-binary students participating in Girls Getting Ahead in Leadership in partnership with Women's Initiative for Self Empowerment, and Kulture Klub Collaborative (a non-profit for youth experiencing homelessness). She has dedicated her life to empowering youth, using her art to inspire change and heal collective trauma. In addition to her own solo releases, Lady Midnight has lent her voice to projects such VANDAAM, Parables of Neptune, Night Stone, and Malamanya.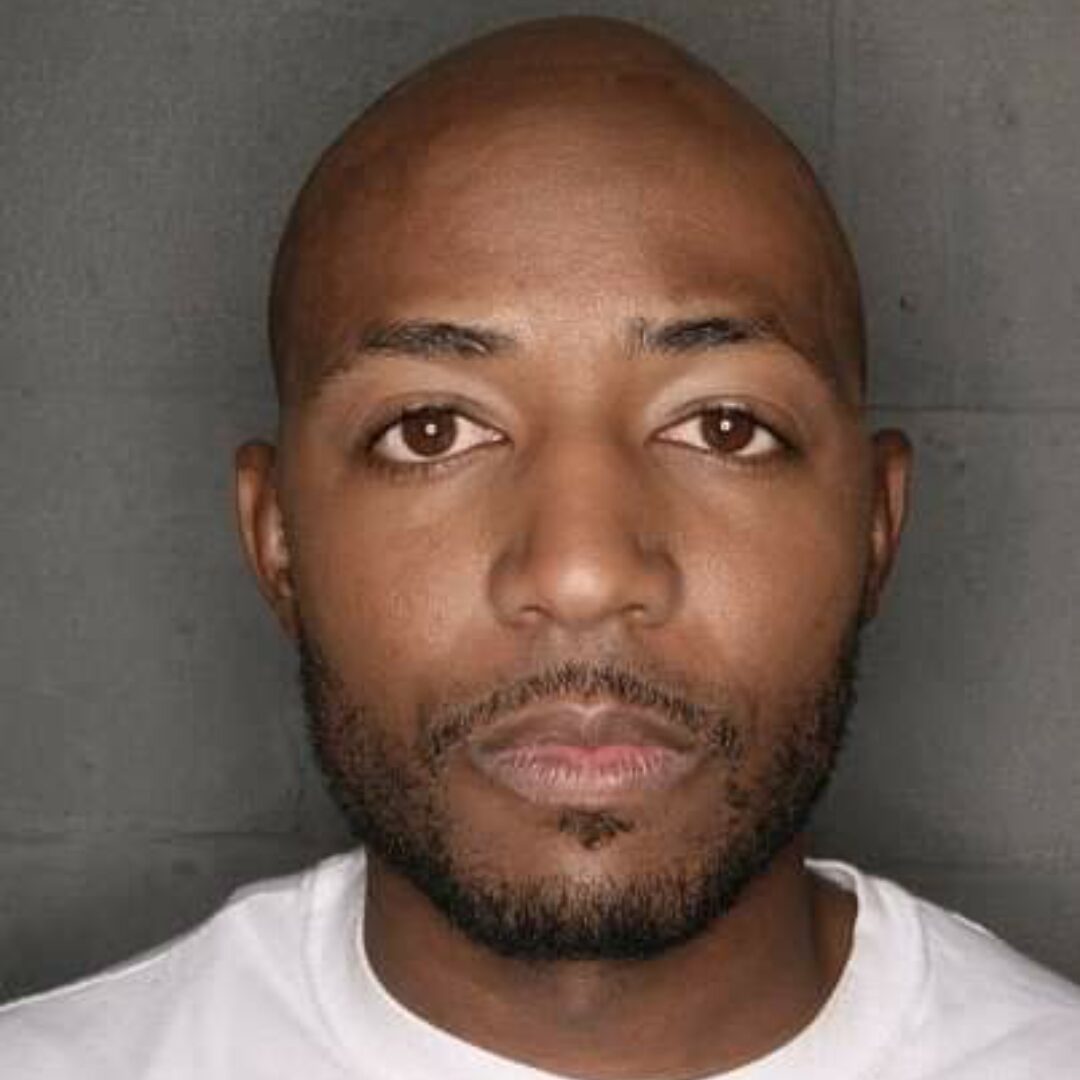 "I am not a black artist, I am an artist." ~ Jean-Michel Basquiat
Meyer Warren is the man. St. Paul Slim is the Emcee. The W8 On Empty Space is the visual artist. In the tradition of Jean-Michel Basquiat, Meyer is his own artistic invention. As St Paul Slim, Meyer has created a legacy of remarkable lyrical prowess with his resounding voice. He speaks for the streets, he speaks for the people, and he speaks power. His journey began as a member of the duo, Guardians of Balance, and through the years has found him rhyming with the likes of Prof and Atmosphere. Hosting Sound Set alongside Sway Calloway (2015) and music placement in movies and television programming. He has released 4 studio albums 1 EP and 2 Mixtapes and shared stages with the likes of many international artists such as MC Lyte, A Tribe Called Quest, KRS-1, Slum village & Wu Tang, Wiz Khalifa, Jay Electronica and much more.
While his commitment to music hasn't wavered, his visual artistic talents have evolved into 'The W8 On Empty Space'. In the past 8 years since Slim has gone public as a visual artist he has had 9 + solo art exhibits, has been a featured artist in multiple Hennepin Theater Trust, 'Made Here MN' series' and has a permanent installation at The Landmark Center in St. Paul, Minnesota. He has also been published in the St Paul Almanac and was the first street artist to hang visual art and exhibit at the state capital in the Attorney General's office. Meyer is currently working on various music and visual art projects as he is always creating and inspiring others to do the same.